Hamiota Municipality UNDER THE AUTHORITY OF THE PLANNING ACT 
NOTICE OF PUBLIC HEARING
On the date and at the time and location shown below, a PUBLIC HEARING will be held to receive representations from any persons who wish to make them in respect to the following matter:
BY-LAW NO. 2023-03 being an AMENDMENT to the Hamiota Municipal Zoning By-law No. 2019-04, as amended.
LOCATION: Hamiota Municipal Council Chambers, 75 Maple Avenue Hamiota, Manitoba  R0M 0T0
DATE & TIME: August 2, 2023 at 7:15 P.M.
GENERAL INTENT OF BYLAW No.2023-03:
Rezone Lots 1 and 2 Plan 55631 BLTO (Roll No.'s 39805 and 39810) lying north of Willow Avenue West and located on the west side of PTH No. 21 (First St. N) in Pt. SE18-14-23W in the community of Hamiota.
FROM: "MH" – Industrial Heavy Zone TO: "CH" – Commercial Highway Zone
AREAS AFFECTED BY BYLAW No. 2023-03: All lands shown by the heavy dashed line on the map below: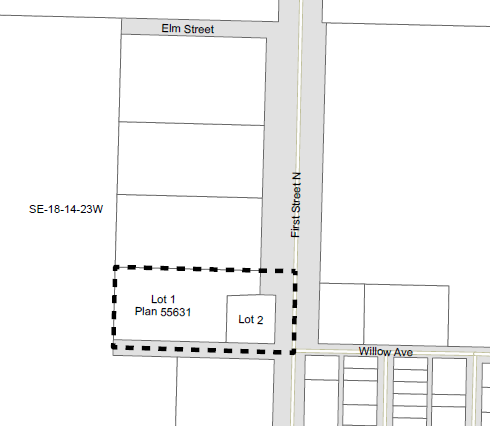 FOR INFORMATION CONTACT:
Cindy Marzoff, Chief Administrative Officer
Hamiota Municipality, 75 Maple Avenue, P.O. Box 100, Hamiota, Manitoba  R0M 0T0 Office: Phone (204) 764-3050
A copy of the above proposal and supporting material may be inspected at the location noted above during normal office hours, Monday to Friday.  Copies may be made, and extracts taken therefrom, upon request.